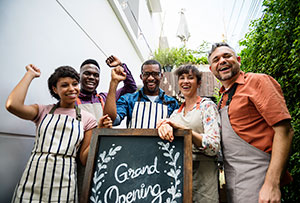 When it comes to business licenses, it doesn't matter if you're an architect, doctor, childcare provider, Uber driver, car mechanic, dog groomer, builder, independent contractor working from home or a Fortune 500 corporation.
Every Fairfax County business must get an annual Business, Professional, Occupational License — or BPOL for short—including home-based businesses. (However, businesses located in the cities of Fairfax, Falls Church and Alexandria, and the towns of Clifton, Herndon and Vienna do not need a county BPOL license.)
New Businesses Must Register

Businesses are required to register with the Fairfax County Department of Tax Administration within 75 days of starting
operations in Fairfax County. A 10% penalty will be charged for failing to file within 75 days. Businesses that are applying for a BPOL license for the first time may also do so online.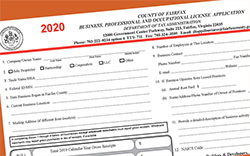 To apply, businesses will need the following information:
IRS taxpayer ID number (FEIN)

NAICS code

Owner name

Trade name

Business address

Description of business

Estimated first year gross receipts/purchases

Begin date

Authorized signature/title

Contact Information
Contractors, builders or developers must also submit a copy of a state contractor's license, and architecture and professional engineering businesses must provide proof of a state professional license or proof this license isn't required.
---
Annual License Fee
The annual license fee depends upon a business's gross receipts (or purchases, in the case of wholesalers):
There is no fee for businesses with gross receipts of $10,000 or less.
The fee is $30 for gross receipts of $10,001 to $50,000.
The fee is $50 for gross receipts of $50,001 to $100,000.
A variable rate applies for gross receipts of $100,001 or more.
Renewal notices will be mailed to business owners in January of each year with renewal and fees due by early March. Check with the Dept. of Tax Administration to verify the exact date each year.
The easiest and fastest way to renew is online. Renewing online is free when paying with a checking or savings account. A 2.5% service fee applies to credit and debit card payments.
For more information or questions, please send an email or call the Fairfax County Department of Tax Administration at 703-222-8234