Fairfax County Park Authority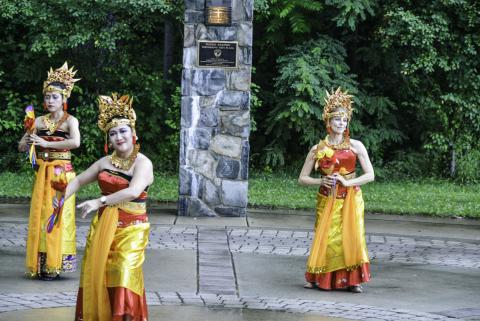 The Fairfax County Park Authority's 2019 Summer Entertainment Series honors the rich musical heritage of people around the world with Cultural Heritage Nights at Ossian Hall Park. This free international music and dance series promote awareness of the county's cultural diversity. The Saturday evening shows put out the welcome mat for neighbors, introducing everyone through the sharing of cultures.
June 15 -- Enjoy the exotic and diverse beauty of Taiwanese culture, dance and music with the "Taiwan Cultural Heritage Night 'Hai Hua Community Center."
June 22 -- Journey with the Silk Road Dance Company to discover the rich dance traditions of the old Persian Empire and modern-day Iran at the "Iranian Persian Cultural Heritage Night."
June 29 -- Travel to China with the "China Cultural Heritage Night 'Hai Hua Community Center.'" Celebrate Chinese cultural heritage with dance and music.
July 6 -- On "Korean Cultural Heritage Night," come and experience the varied beauties of Korean culture, a gift to your eyes and your ears.
July 13 -- The beauty and grace of traditional Central Asian dance comes to the stage with "Uzbekistan Cultural Heritage Night." The award-winning Silk Road Dance Company celebrates traditional women's dances of Uzbekistan.
July 20 -- Enjoy traditional Bolivian music and dance at "Bolivia Cultural Heritage Night 'Tradiciones Bolivianas.'" Tradiciones Bolivianas was formed by artists and tradition bearers to preserve and share the culture, music, dance and traditions of Bolivia.
July 27 -- Celebrate Peru's cultural heritage with dance and music. Come to "Peru Cultural Heritage Night 'Centro Cultural Peru.'"
August 3 -- It's time for "Indonesia Cultural Heritage Night 'Santi Budaya.'" This show is co-led by the music director of the of the Indonesian Embassy in Washington, D.C.
August 17 -- Celebrate Irish traditions with the "Irish Cultural Heritage Night 'Irish Breakfast Band,'" featuring fiddles and flutes, piano and hammered dulcimer, cello, guitar, vocals, mandolins, banjo, bouzouki, bass, bones and bodhran (Irish drum).
All performances are held at Ossian Hall Park, located at 7900 Heritage Drive in Annandale, Virginia. Show times are 7:30 to 8:30 p.m. Find more details at Performances.
Concerts and movies are held outdoors and may be cancelled in the event of inclement weather. Call 703-324-SHOW (7469) one hour prior to the start of the show for updates.