UnCovered: Cookie Cutters and Kitchen Tools


Contributor: Fairfax County Park Authority
The tradition of baking holiday cookies to share with friends and family dates to the medieval era. Historically, these cookies would be made with fragrant spices such as black pepper, ginger and cinnamon, making them taste similar to modern day gingerbread. The first known recipe for gingerbread came from Greece in 2400 BC.
Gingerbread is claimed to have been brought to Europe in 992 AD by the Armenian monk Gregory of Nicopolis (also called Gregory Makar and Grégoire de Nicopolis). He left Nicopolis (in modern-day western Greece) to live in Bondaroy (north-central France), near the town of Pithiviers. He stayed there for seven years until he died in 999 and taught gingerbread baking to French Christians (1) It may have been brought to Western Europe from the eastern Mediterranean in the 11th century. (2)
The creation of gingerbread men cookies is attributed to Queen Elizabeth I. It is said that she presented visiting foreign officials with gingerbread in their likeness. Gingerbread was also a favored treat at medieval European festivals and fairs, and there were even dedicated gingerbread fairs.
Specialty forms of gingerbread can be found in Belgium, France, Norway, Denmark, Sweden, Germany, the Czech Republic, Ukraine, Poland, Romania, Bulgaria, Russia, and Panama. Some substitute honey for molasses, others add a sweet sauce over the top.
Other forms of gingerbread, such as loaves and houses, have historical ties as well. It is believed that gingerbread houses were popularized by the witch's cottage from the fairytale Hansel and Gretel. In America, George Washington's mother, Mary Ball Washington, was known for her gingerbread loaf recipe, which was her hospitality staple. Her recipe called for spices such as ginger, cinnamon, mace and nutmeg, with a surprise hint of citrus from some orange zest.
These cookie cutters are part of Fairfax County's Lahey Lost Valley Collection. In 1940, Richard Lahey and his wife Carlotta Gonzales Lahey bought 45 acres of land in Vienna. Richard Lahey was at one time the principal emeritus of the Corcoran School of Art and a well-respected artist and teacher. Carlotta was a painter, sculptor and teacher. Throughout their lives, they collected historic furniture, folk art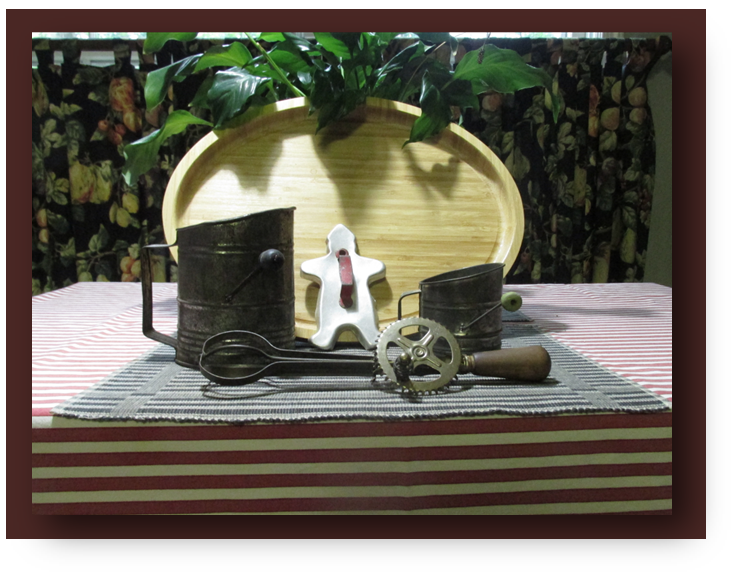 and antiques. Carlotta bequeathed 22 acres of land, a house and its contents to the Fairfax County Park Authority in memory of Richard
The tin cookie cutters in the Lahey Lost Valley Collection offer a unique spin on the standard gingerbread man pose. The assortment includes a depiction of a trumpeter on horseback, a man wearing a top hat, and a dove. They would have been used to cut a variety of cakes and cookies, including gingerbread.
Generally, the more intricate the design of a tin cookie cutter, the more desirable and collectible it has become. The only major design difference to modern cookie cutters is the lack of a handle. Vintage cookie cutters have holes cut in the back of the mold to allow your fingers to push away the dough and lift the cutter. While cookie cutter designs and materials may change, the excitement of partaking in a family tradition, such as making gingerbread, never will.
Some gingerbread recipes produce hard cookies, others soft. Both molasses and honey hardens gingerbread as the sugar absorbs moisture. Gingerbread is rolled out and cut into shapes making them a bit chewier while gingersnaps are rolled into balls and baked a few minutes longer. This creates the snappy crispiness.
According to Emma Slattery, a clinical dietitian at Johns Hopkins Medicine, "Ginger adds a fragrant zest to both sweet and savory foods. The pleasantly spicy "kick" from the root of Zingiber officinale, the ginger plant, is what makes ginger ale, ginger tea, candies and many Asian dishes so appealing. In addition to great taste, ginger provides a range of health benefits that you can enjoy in many forms."
(1) and (2) Wikipedia
---