A ribbon-cutting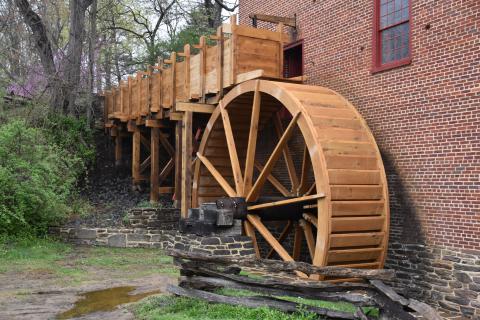 ceremony is scheduled on Sunday, May 2, 2021, so spectators can witness the new waterwheel at Colvin Run Mill take its first turns and grind its first grains.
Members of the public are invited to attend the event in person. You can walk the site beginning at 10:30 a.m., then join us for the ceremony at 10:45 a.m. Due to COVID-19 restrictions, only limited in-person reservations for the event will be taken on a first-come, first-serve basis. After a brief ceremony, attendees will be allowed to tour the historic site and witness the mill's first grind of the season. Reservations can be made at https://www.surveymonkey.com/r/XS9NDK9.
Colvin Run Mill is the sole surviving example of a 19th century mill in the D.C. area. The renovation project included removal of the mill's old wood wheel and the wood flume that carried water to the wheel. Both had deteriorated after years of use, and a new wood wheel and flume were fabricated and installed. The $382,000 project was funded through voter-approved Park Bonds.
Colvin Run Mill is located at 10017 Colvin Run Road, Great Falls, Virginia. For more information, please call 703-759-2771; or visit Colvin Run Mill.